World Class Quality Black and Red GSDs

Classic and Long Hair Dogs!
Kreuz Haus Quality Purebred
German Shepherd Puppies For Sale
RESERVE YOUR QUALITY PUREBRED
GERMAN SHEPHERD PUPPY TODAY

Ulena Puppies Available Now
2 Males - 1 Female

Zita Puppies Available Now
4 Males - 3 Females

Della Puppies Available Now
3 Males - 1 Female

Touch/Click to View Kreuz Haus Puppy Litters

Kreuz Haus German Shepherds is a family owned kennel run by Thomas, Amy and their older children. Raising young German Shepherd Puppies in a full family environment teaches outstanding temperament to each puppy through their daily interaction and play. In his profession as a police officer (now retired) Thomas has had the unique opportunity to work with many well-trained GSDs in very different situations. Growing up in Indiana he was fortunate enough to have a world class quality German Shepherd pet as a puppy from a reputable breeder named "Shadow". He has always loved the breed for their remarkable intelligence, loyalty, trainability and adaptability. Other qualities that they instinctively possess are very good temperament and super companionship in any family home environment.

"Thomas was exceptional!! Came to him with a specific need for a puppy for our family and immediately knew he was the guy to buy from! He like myself has a great amount of respect for these dogs and goes out of his way to make sure all your needs are taken care of!..."
John H.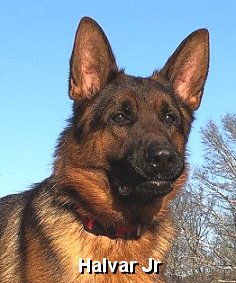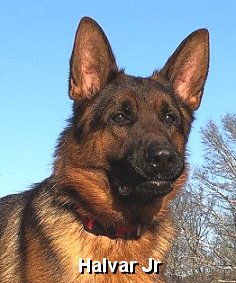 Kreuz Haus . . . The Midwest's Provider of New Best Friends
Parent pedigrees of all of our Puppies come from World Class IPO, Schutzhund and IGP protection and behaviour trained linage. They are registered with the American Kennel Club (AKC). Many of them include World Sieger Champion German Shepherd dogs that were imported from Germany after completing their certifications and competitions. Kreuz Haus is proud to be able to furnish each instinctive and intelligent GSD puppy with homes that will love and appreciate them.

The Kreuz Haus Comprehensive Breeding Program
Kreuz Haus breeding program's success is to offer enthusiastic well pedigreed German Shepherd puppies that can become Personal Protection dogs, Security or Guard dogs and make perfect family companion dogs. Providing you with a one-of-a-kind purebred German Shepherd puppy that is either classic coat or long haired is just one of our goals. We strive to give each new GSD puppy owner a "Best Friend" and a life-long family Companion. Absolute loyalty that German Shepherds have for their owners make them so much more than simply a "Pet".

Sitemap